It has been over one year and six months since the devastating 8.9 earthquake and subsequent tsunami hit Northern Japan, and debris from the catastrophe on March 11, 2011 are now making landfall in Hawaii as more debris continues washing ashore on the coasts of Canada, Alaska,Washington and Oregon. There is a good chance that tsunami debris will be making a guest appearance at many of the events on the North Shore during the Vans Triple Crown and Volcom Pipeline Pro. The debris will likely spread all throughout the North Pacific being carried by the big winter swells which are about to start forming very shortly. Surfers have already had a taste of the winter big wave action, with more on the way.
It is estimated that 5 million tons of debris initially drifted off the coast of Japan following the disaster, but 70% of that sunk just miles off the coast which left 1.5 million ton still floating in the currents of swells off the Pacific. Most of the debris has now broken apart and drifted thousands of miles apart to all ends of the North Pacific.
So far, the ocean and wind currents across the North Pacific have washed up other things, like a Harley Davidson motorcycle in a container, a 66-foot floating pier, a 20-foot fiberglass boat, fishing floats and vessels, sports balls, plastic bottles, and more along the North American coastline, all confirmed as tsunami debris. With wind currents moving debris along the ocean's surface quicker than water currents can, we're already seeing the first bits of debris wash ashore Hawaiian beaches. Late last month, a blue plastic bin was verified in Waimanalo, with another floating dock making its way toward Oahu from Molokai.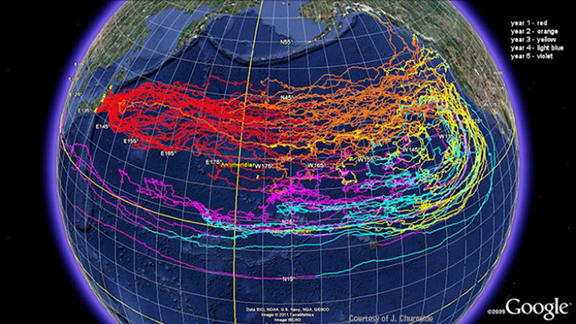 One question that many people have: 'Is the debris Radioactive?' Many experts agree that any of the debris washing ashore will have any radiation above normal levels. Some of the debris that has washed up on the West Coast of North America has been tested and  there has been no debris with radiation levels above normal.
The debris will continue to be deposited on beaches all across the North Pacific, from California up to Alaska. Much of the debris may also join into existing "garbage patches." The majority of debris left floating across the Pacific are highly buoyant materials such as buoys and plastic bottles. There still is the chance of items like lumber, Oil drums, fishing nets, small vessels, and many other items coming ashore anywhere along the North Pacific. Much of the debris that comes ashore is just trash from many of the Asian countries which has been washing across the North Pacific for years, which makes it hard to determine exactly if the debris is from the Tsunami.
No one knows exactly how much debris is left out there or where the debris will end up for years to come. If you spot small debris you can just do your part and throw it away, but if you spot larger potentially dangerous debris, just alert local authorities.
Marine debris items or significant accumulations potentially related to the tsunami can be reported to DisasterDebris@noaa.gov with as much information as possible (including location, date and time you found it, and any relevant descriptions).